Pre & Post Congress Activities
This is your last chance to have your say at the 21st Annual HUPO Congress. Late Breaking Poster Abstract Submissions close today, September 23, 2022 (23:59 PDT). Submit your poster now at https://t.co/EqZxb7kHPD
Read More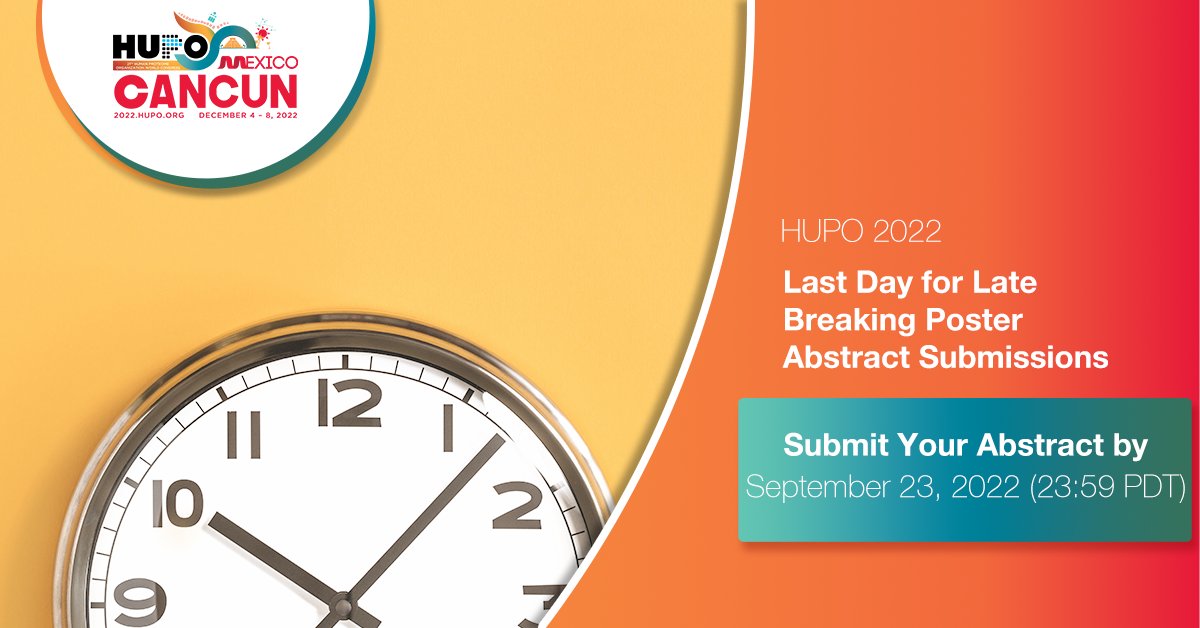 RT @CharlH_Science: Another fun panel done - thanks to everyone for attending and the panellists for their super useful advice. Keep an eye…
Read More
The Human Proteome Project (HPP) is an international project organized by the Human Proteome Organization (HUPO) that aims to revolutionize our understanding of the human proteome via a coordinated effort by many research laboratories around the world. It is designed to map the entire human proteome in a systematic effort using currently available and emerging techniques. Completion of this project will enhance understanding of human biology at the cellular level and lay a foundation for development of diagnostic, prognostic, therapeutic, and preventative medical applications. Don't miss out on this incredible workshop. HPP Day on December 8th, 8:00 to 15:00. Registration fee of $100 USD.
8:00 to 9:30 – The Human Proteome Grand Project
9:30 to 12:30 – Functional Prospective from B/D HPP
13:30 to 15:00 – Introduction to New Initiatives
15:00 – Wrap up
Pre-Congress Training Courses
Receive access to five (5) Pre-Congress Training Courses. These exciting training courses will be offered as a digital recording to view in your own time, in advance of the Congress Dates. Arrive in Cancún early to attend a live discussion session with the speakers onsite. Each Pre-Congress Training Course will consist of three (3) 1-hour pre-recorded talks that will be made available to participants approximately two weeks in advance of Congress. Further details on each training course will be outlined in the Scientific Program page. Registration to all five (5) Training Courses and the onsite discussions included in the registration fee of $50 USD.
Sunday, December 4, 2022: 09:00 to 10:00 – Single Cell Proteomics Technology
Sunday, December 4, 2022: 10:15 to 11:15 – Structural Proteomic Treasures of the Plasma Proteome
Sunday, December 4, 2022: 11:30 to 12:30 – Post-Translational Modification
Sunday, December 4, 2022: 13:15 to 14:15 – Open Proteomics Data Scient
Sunday, December 4, 2022: 14:30 to 15:30 – Targeted MS Assay to Clinic
ICPC Cancer Moonshot Pre-Congress Workshop
The International Cancer Proteogenome Consortium Cancer Moonshot 2022 Investigator Retreat
The International Cancer Proteogenome Consortium (ICPC) started in 2016 inspired by the spirit of international collaboration and data sharing encouraged by the Cancer Moonshot. Its vision is aligned with the Moonshot goals of accelerating progress in cancer research and its translation to patient care. ICPC encourages international cooperation and investments in proteogenomic cancer research. To accomplish this, ICPC brings together some of the world's leading cancer and proteogenomic research centers, currently representing 14 countries, that adopt standard operating procedures for biospecimen collection and harmonized proteogenomic technologies and workflows to characterize commonly diagnosed cancers in their respective populations and address their specific unmet clinical needs. Its overall mission is to develop a cancer proteogenome atlas representative of the diversity of people with cancer worldwide to better inform patient care, while implementing strategies to compare proteomic datasets generated using different platforms. During this closed session, representatives from each of the ICPC teams will provide programmatic and scientific updates regarding their cancer proteogenomic efforts. Join us on Sunday, December 4, 2022 8:00 to 15:00. Registration fee of $50 USD.
Access to Three (3) Workshops and Asia/Oceania Networking Session
Join us onsite Sunday, December 4th before the official Congress Kicks Off to enjoy some incredible Workshops and the Asia/Oceania Networking Session. Registration includes participation in all three (3) workshops listed below and one (1) Networking Session. Further details on each Workshop will be outlined in the Scientific Program page here Scientific Program & Program at a Glance – HUPO 2022 World Congress. Registration Fee of $50 USD.
Sunday, December 4, 2022: 08:00 to 10:00 – Proteomic Studies Along the Lifespan: from design to insights to clinical use
Sunday, December 4, 2022: 10:15 to 12:15 – AMP PD Multi-omic Analysis using FAIR resource developed to accelerate the development of the therapies for Parkinson's disease
Sunday, December 4, 2022: 13:00 to 14:00 – Standardization in MS-based Proteomics
Sunday, December 4, 2022: 14:15 to 15:15 – Pre-Congress Networking Session for Asia Oceania Scientists in Cancún
Call for Pre-Congress Workshop Submissions Closed
The HUPO 2022 Core Committee invites submissions from individuals or groups to conduct Special Interest Workshops, which will be held on the first day of the Congress (Sunday, December 4, 2022) prior to the official opening of the Congress. Workshops are normally between 1.5 hours and 4 hours in length. All topics relevant to Proteomics are welcomed.
Workshop proposals that incorporate a variety of instructional approaches (e.g. lecture, interactive discussion) and provide an engaging and interactive environment are strongly encouraged. We welcome workshops that provide practical guidance for conducting and managing team science in a variety of contexts and settings.
All proposals must be submitted online. Workshop submissions are due by May 31, 2022 for consideration, and submission acceptance notifications will be sent no later than Friday, June 30, 2022. Workshop space is limited and it is possible that not all proposals can be accommodated.
Important Dates
| | |
| --- | --- |
| Submission Deadline | May 31, 2022 |
| Submission Acceptance Notification | June 30, 2022 |
| Final Agenda | September 30, 2022 |
Proposal Content and Format
Workshop proposals should include a one-page summary of the workshop, including:
Description of workshop
Statement regarding how the workshop can benefit HUPO 2022 Congress attendees
Three main objectives for the workshop
Submissions Should also Include the Following Information:
Title of the workshop
Name and email of the contact person who will be responsible for Congress correspondence
Name of proposed workshop speaker(s) with institutional affiliation and email address
The intended audience for the workshop
Maximum number of attendees per session (if applicable)
Any special A/V needs or room set up requirements (if applicable)
Length of workshop (normally 1.5 – 4 hours)
Important Things to Note Before Submitting a Proposal:
If your workshop proposal is accepted, the HUPO 2022 Congress will provide a session room at the Congress venue with basic AV equipment (projector, screen, microphones).
The Congress will not be able to provide any additional financial support for food & beverage, additional AV expenses, speaker support or any other expenses. Should you require financial support, the Congress may approve registration fees being charged to attendees, which should cover these costs. Please provide a budget with a cost estimate and proposed registration fees as part of your workshop proposal.
The workshop will be listed in the program on the website, mobile app and in all official Congress materials, however, you are encouraged to personally invite people to attend the workshop. Anyone attending the workshop will have to be registered for the HUPO 2022 Congress.
It will be the organizer's responsibility to make all arrangements for the workshop including speaker arrangements.
The final agenda for inclusion in the onsite materials must be submitted to the Congress Secretariat no later than September 30, 2022.
Contact:
For any questions, please contact: hupo2022-program@icsevents.com